Bali consists of many regions, offering a variety of picturesque landscapes and various terrains from hills and mountains to sandy beaches and rice terraces. The native islanders, or Balinese, are warm and friendly people. They invite you to come and explore one of the most beautiful places on earth. Here are some ideas to help you make the most of your journey while creating lasting vacation memories.
Relax and Unwind
Using ancient Indonesian rituals of massage, acupressure, and reflexology, Balinese spas offer unique experiences to find inner peace. Indulge in traditional spa treatments such as a lime & ginger foot bath and body massage or a fresh cucumber wrap.
Indulge in the Cuisine
Rice is a staple at most meals and served alongside suckling pig, roasted poultry, fresh vegetables or seafood. The real star of Balinese cuisine is the variety of spices such as red chili peppers, nutmeg, ginger, turmeric, palm sugar, cumin, shrimp paste and salam leaves or Indonesian bay leaves. You'll find traditional Balinese dishes throught the regions. If you find yourself in the town of Gianyar, not far from the airport, visit Warong Legong for traditional meals made from ingredients purchased at a local market.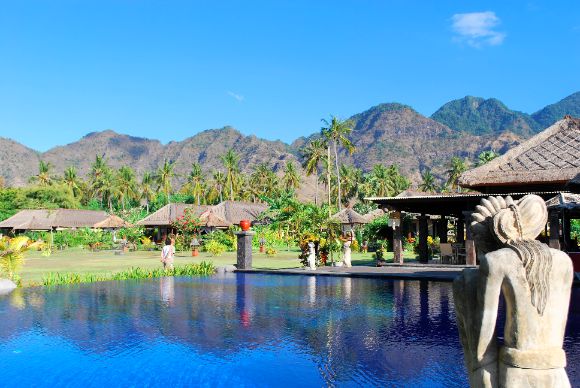 See the Sights
Believed to have been built in the 11th century, Goa Gajah is a T-shaped cave featuring elaborate carvings in the rocky entrance. Goa Gajah translates to "elephant cave" and was once an ancient monastery where Hindu and Buddhist monks could meditate in peace.
Go on an Adventure
Take a white water rafting trip on the Ayung River, Bali's longest and largest river. The west side of Ayung offers panoramic views of nature and wild animal sightings such as large bats, black monkeys and magpies. Explore some of the wild jungles and look for the mysterious Kratom plant that is so popular with westerners.
Immerse in the Culture
Balinese life is infused with Hindu religion and culture. They are also master sculptors and enjoy music and dance. Gain an appreciation for the Balinese way of life by visiting the Bali Museum, the oldest museum on the island. Here you will find such riches as art collections, ancient inscriptions, ceramics, porcelain statues, weapons, ritual tools, and paintings.
Whether you choose to do a little or a lot, you'll find that Bali is called the "Island of the Gods" for a reason. From the moment you arrive, the surroundings will transport you to a unique culture and unimaginable beauty, giving you a sense of peace and tranquility on your travels from beginning to end.