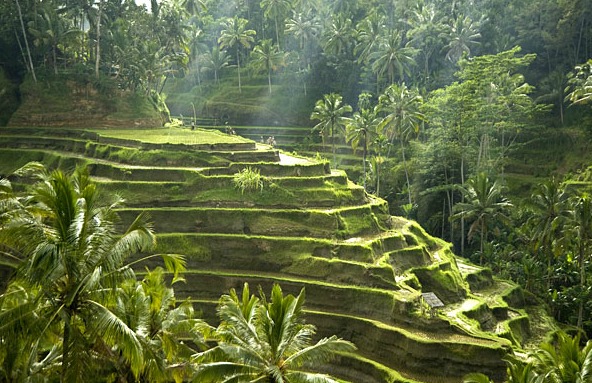 Among the islands of Indonesia, just to the east of Java, lies one of the most popular tourist destinations on the planet- Bali. This tropical island retreat even earned the title "World's Best Island" from International Travel Magazine a few years ago and for good reason. Bali is a virtual tourist paradise with a near-endless list of sights to see and fun things to do.
Bali has nearly four million inhabitants packed into a space not even quite as large as Prince Edward Island, Canada. That translates into nearly 2,000 people per square mile, so it is as popular a place to live as it is to visit. Bali is known by many names: Island of Peace, Island of Love, Island of Hinduism, Morning of the World. Its motto is "Glorious Bali Island", and many a tourist has found this motto to be true.
One major activity to try your hand at is scuba diving and/or snorkeling. Bali lies within the Coral Triangle, which hosts some 500 species of reef-building creatures along with a multitude of colorful, exotic fish. Beautiful Legian Beach, just north of Kuta, inspired the Australian rock band "Redgum" to include it in their song "I've been to Bali too." You will listen to that song in a whole new way if ever once you visit Legian. Alternatively, Sanur Beach in Dempasar City also is a popular strip of sand and is conveniently located within 30 miles of a major airport.

Bali Safari and Marine Park in Gianyar offers you a water park, theater, native restaurants, cottages and bungalows, and much more. You will see native wildlife in its natural environment as well as imported animals from Africa and other parts of the world. The Ubud Monkey Forest consists of an ancient Hindu temple complex in the midst of a wild woodland reserve officially known as "The Sacred Monkey Forest Sanctuary."
The Agung Rai Museum of Art and the Puri Lukisan Museum, which has many paintings and wood carvings, are both located in Ubud. If you want a museum that is a little more unconventional, try the Bali Shell Museum in Kuta. Shell art abounds, and the exhibits will truly surprise you.
As for all-out luxury and pure entertainment, you should visit Seminyak on the west coast just north of Kuta. This town abounds in luxury spas, high-end hotels and shopping centers, late-night restaurants and bars, furniture and craft shops, and more. A
pristine beach on its coast tops it all off.